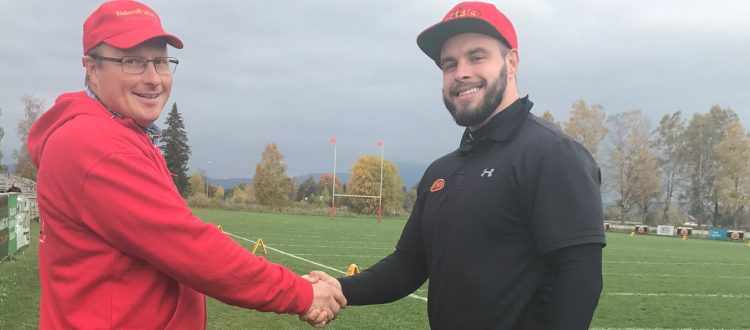 Michael Hall har signert som ny hovedtrener for sesongen 2018.
Eidsvoll 1814's har hatt gleden av å ha Michael Hall som spillende trener i 2017 sesongen.
Som trener har han deltatt på Elite og alle våre aldersbestemte lag og han har høstet positive tilbakemeldinger fra unge som gamle. Økonomi og kontinuitet er to viktige faktorer for klubben og vi mener at vi med Michael, får «i pose og sekk». Michael har derfor for 2018 sesongen signert som spillende hovedtrener for Eidsvoll 1814's.
Han kommer opprinnelig fra St. Louis Missouri der han spilte Linebacker og Runningback samtidig som han konkurrerte på høyt nivå i bryting. Han ble kåret til «All-State runningback og Conference player of the year» for sine fremragende offensive og defensive prestasjoner.
Etter High School gikk turen videre til Missouri Valley College (NAIA) der han signerte som Safety og Runningback. Han var startende Runningback, men byttet deretter posisjon til Safety og Linebacker. Som Linebacker ledet han det beste laget i ligaen i taklinger og ble kåret til «All-American Linebacker».
Michael har også rukket å gjøre karriere i Europa og har 3 sesonger i Tyskland (Ravensburg Razorbacks, München Rangers, Bielefeld Bulldogs), 1 sesong i Polen (Primacol Bialystok Lowlanders) og 1 sesong i Hviterussland (Minsk Zubrs) bak seg, også disse med stor suksess. Michael er en allsidig spiller, men har sine aller beste attributter på den defensive siden av ballen.
Vi ønsker Michael lykke til med gjennomføring av resterende sesong for U19 og U15 og forberedelser til og gjennomføring av 2018 sesongen!
Styret
English:
Eidsvoll 1814's have the pleasure to announce that Michael Hall have signed as the new head coach for the 2018 season!
Michael have been playing Linebacker and coached for the Elite team and also coached the youth teams with great success.
Economics and continuity is two important factors for the club, and with Michael we feel we get the best og two worlds says sportsdirector Bård Aune.
For those of you that dont know Michael that well he is originally from St. Louis, Missouri where he played both Linebacker an Runningback in High school and recieved All-state runningback and conference of the year for his accomplisments on the field.
After high school he played safety and runningback for Missouri Valley College (NAIA) but changed positions to linebacker with great success and recieved All-American Linebacker.
Michael have also played several seasons in Europe.
Board