Storfint besøk til Eidsvoll!
Det er med stor glede HC Michael Hall og styret kan meddele at vi har fått muntlig ja av Arlen Harris til å coache i en uke på treningscamp i Eidsvoll i Mars-April.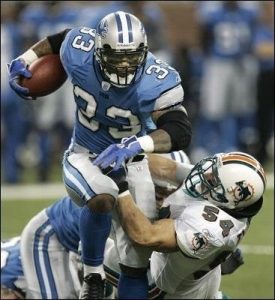 For de som ikke vet hvem Arlen er, så er han ingen "hvem-som-helst". Arlen er All-American & Veteran Running Back og spilte på NFL-lagene St. Louis Rams, Detroit Lions og Atlanta Falcons i årene 2003 – 2007. Han er nå ansett som en Running Back-guru i USA og Internasjonalt og har eventer både i Mexico og Canada og i 2018 vil han ta turen til Norge og Eidsvoll 1814's. Med å ha suksess på alle nivåer som Running Back har det blitt hans lidenskap å utvikle unge Running Back talenter. Arlen kommer fra en lang rekke med Division 1 running backer og har trent stjerner som Ezekiel Elliot (Dallas Cowboys) og Carey Davis (Super Bowl XLII Champion med Pittsburgh Steelers) og mange flere college og NFL running backer.
I dag driver Arlen selskapet Run It Performance og er HC på Lutheran St. Charles HS i St. Peters Missouri. Han er også Coach for Under Armour, FBU, Blue-Grey All-American game series og er USA Football Master coach og Heads Up NFL Ambassadør.
Noen Highlights fra karrieren hans er:
High School:
3x Chest-mont Champion
3x All-conference/district RB
2x All-state RB
Maxwell Finalist
PIAA State Champion (han knuste Tony Dorsetts Rushing Record)
2x USA today Parade All.American (ESPN Ranked #3 RB)
Bigg 33 All-Star MVP
Chester County Sports Hall of Fame
College: University of Virginia
#2 All-ACC Returner (top 20 i USA)
Paradise Senior Bowl MVP
NFL:
Rookie top 5 NFL returner
3 touchdowns mot det #1 rankede Steelersforsvaret
#2 St. Louis Rams leading rusher (03 og 04)
NFC West Champion
Sjekk også ut nettsiden hans (www.runitperformance.com).
Om andre klubber kunne tenke seg å delta på camp med noen spillere kan styret i 1814s kontaktes på styret(at)1814s.no
Sportslig hilsen
Styret 1814's