To kamper mot nyopprykkede lag i eliteserien
To nye lag har rykket opp i Eliteserien i 2019. Olavs Menn fra Sarpsborg og Gladiators fra Kristiansand. 1814's møtte østfoldingene på bortebane forrige helg, og i morgen er det Gladiators som besøker 1814's på Bøn.
Kampen mot Olavs Menn viste at Østfoldingene ikke hadde til hensikt å bli kjørt over i deres premieresesong i Eliteserien. Riktignok hadde de tapt sine to kamper tidligere i sesongen, samt fjorårets NM-kamp mot 1814's, men at de hører hjemme i øverste divisjon er det ikke tvil om. -"It was a great day for football, both teams came prepared to battle on the gridiron." fortalte 1814's HC Michael Hall etter kampen.
-"It was a battle till the end of the game. The 1814's offense remained steady with a few mistakes here and there and the defense made a lot of great stands with an occasional big play from the Olavs Men. At the end of the match the 1814's prevailed in their second victory moving to 2-0".
Kampen mellom Olavs Menn og Eidsvoll 1814's endte 23-28.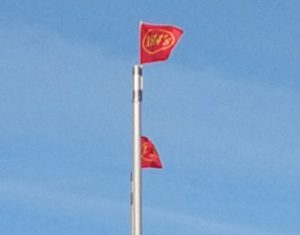 Lørdag 18 mai er det bare å brette opp armene og ta imot nyopprykkede Kristiansand Gladiators på Bøn. Dette er et lag som har vært borte fra Eliteserien i mange år, men som man absolutt skal ta på alvor. Gladiators har forsterket laget med både ny Headcoach og ny Quarterback fra Sverge. Headcoach, Leo Billgren, har lang erfaring fra den Svenske Superserien og Superettan. Quarterbacken, Dennis Isberg, blir beskrevet som en meget stor atlet og en ung komplett spiller med mye erfaring.
-"This will be a test for both teams. The 1814's have not faced a spread offense like the Glads this year yet and this being the Glads first year back in the elite series in many years." forteller 1814's HC Michael Hall. I tillegg trekker Hall frem Gladiators QB -"The Glads have a new 20'year old Swedish QB who has a strong arm and quick feet."
Kampen mot Gladiators er første elite kampen på Bøn i 2019, og vi forventer nok en forrykende kamp. -"I'm fully confidently defense can hold the Glads offense, and our 1814's offense will find the holes in their defense to make this a great game for the seniors in their first home game at bøn of the year" avslutter Hall.
Score blir oppdatert på både vår facebook og instagram side, og AMsportsTV kommer også til å streame kampen.
Vi kommer tilbake med en oppsummering av kampen i morgen kveld.